Vibra Trim VT400 Vibration Plate Exercise System
On Sale Now – $1,990 – Shipping Included!!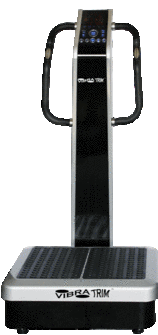 This unit is the ultimate in vibration machines with two separate motors that develop: oscillating style; spiral style; dual-vibration movements. The VT400 comes with a manual program feature along with three built-in programs. In addition, you can develop six of your own programs. Resistance bands, large exercise wall chart and manual are also included.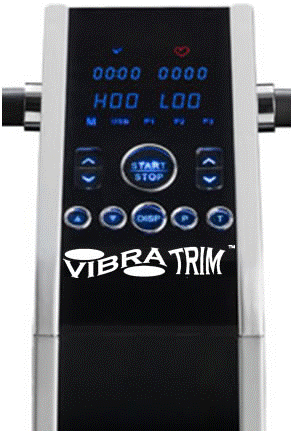 Features:
2013 Pivotal Model VT400 with Ultra Wide Base Plate (27" long).
High Amp Control Panel
On the very edge it delivers 2.8 G forces at 5 hz
Two Independent Motors
2 Horsepower 500 Watt Oscillating DC Motor
1 Horsepower 300 Watt Spiral DC Motor
Lowest noise of all models independently tested. The VT400 won the 2011 Editor's Choice Award for whole body vibration machines. This is the only review done by an independent third party.
Handles weight to approximately 300 pounds.
Vibration Amplitude: 10mm
Vibration Frequence: 5 to 14 hz pivotal
For Specific Benefits of Whole Body Vibration, See Below.
Additional benefits/features:
Built in heart rate monitor.
Programs: A manual program that lets you control both the oscillating, orbital vibrations, either independently or together.
Three preset programs controls both vibration and changes speeds and time span.
The user can also define six programs of their own which can be changed at any time on the USB Flash Drive.
1 1/4 hour exercise DVD & a 90 page Exercise & Use manual included.
60 Speeds per vibration type equates to 360 speed combinations.
The dual VIB movement will add orbital motion to the traditional oscillating motion that vibrating platforms produce. The muscles are worked not only longitudinally but also transversely. It generates motion in the three spatial planes (tri-axial) which is vital for: working the muscles more thoroughly and fighting more effectively against cellulite.
Can move lymph fluids to the tune of approximately four teaspoons per minute when standing on the edge of the plate. This is terrific for weight loss and detoxification although starting out slow is recommended to avoid the side effects of possibly being sick to your stomach. For this reason, it is recommended that those individuals that are sick and inflammed start out at two minute intervals and increase their time on the machine as their body dictates.
Most of the chiropractors have told me they won't use a linear model for those with bad backs or those who have low bone density. They did tell me that if someone's back is very healthy and they can handle the linear movement, then they don't have a problem with it. Basically, most people that have bad backs like the pivotal models and the body builders like the linear.
The manufacturer gives a money back guarantee unlike companies that charge a huge restocking fee.
Capable of vibrating up to 50 hertz with dual motors running at the same time.
Individuals with circulation and lymphatic problems do best to start out on the spiral motor (circular plate spinning motor, with no upward G force). The G force can come as health improves.
I like how on the teeter totters you can find the exact point where you can stand so you get the right amplitude that feels good to you. Standing to the edge can feel too jarring while too close not enough. People usually work their way to the edge.
For many individuals that have back problems, the spiral motion seems to put less pressure on the back and joints. Both motors must be at the same speed to truly experience the spiral effect.
Can improve bone density, lessen joint pain and sore muscles, improve balance, strengthen muscles, improve circulation, reduce swelling and inflammation, improve muscle tone and assist with weight loss and detoxification.
Comes with a large exercise wall chart that shows many exercises and the muscles that are exercised.
Easy to assemble requiring only 14 screws and approximately 10 to 15 minutes of time.
There is a full two year warranty on everything and an additional three years on the motors and frame.
The VibraTrim Limited Two Year Warranty
Most companies warranties require that you pay the freight both ways and that they will fix your original unit. This may take several weeks to accomplish. The VibraTrim warranty service is much different from most companies. If there is a problem that arises with any unit, they want you to call right away. From that phone call they will determine what the problem is and the best way to correct it. If it is not a simple fix, they simply send you a new unit by FedEx Ground. When the new one arrives, you put the old one in the box and send them an email that it is ready for pickup. They then have FedEx come by the next business day and pick it up to return to their warehouse. All of this is at no cost to you.
You don't have to load it up, take it back to a store, wait 4 to 6 weeks for it to be repaired, go back to the store, load it back in your car and then finally take it back in your house. With VibraTrim you just have to wait the transit time from their warehouse in Tacoma, WA to your house. FedEx does all of the loading and unloading for you.
Extended 5 year Warranty
VibraTrim also warrants the electrical motors and frames for an additional three years with the same restrictions and exclusions as listed above. This extended warranty does not cover the cost of labor or the pick-up, delivery, or freight charges involved with repairs.
Satisfaction Guarantee
If your new VibraTrim does not meet your expectations, simply return it within 30 days at your expense for a full refund. No restocking charges. No other Fees. Please call first so that an RMA (return material authorization) is issued and the warehouse is advised to be on the lookout for your shipment.
Whole body vibration has been researched for more than 100 years. It has been proven to have the following benefits:
• Increases flexibility, range of motion and mobility (decreases muscle tightness and increases mobility – the abilities to walk and stand)
• Improved balance and coordination
• Provides benefits of both anaerobic and aerobic exercise
• Increases physical strength, dexterity, and endurance
• Reduces arthritic pain, joint and ligament stress
• Improved pelvic floor function (this can help to reduce bladder problems or incontinence)
• Enhances conventional training results
• Enhances pain reduction
• Posture is enhanced and strengthened overall
• Relieves menopausal symptoms
• Increases the "happiness" hormones serotonin and neurotrophine, substances that support our thinking process (this helps to reduce
• Decreases the stress hormone cortisol
• Enhances strength and fast twitch muscles (reduces spasticity and increases smoothness of muscle function)
• Speeds training recovery
• Improves collagen production (joint repair)
• Relieves tension and chronic pain in ankles, knees, lower back and neck
• Enhances critical blood flow throughout the body (oxygenation and lymph drainage) (increases how well your body can detoxify and helps with brain function, since the brain is getting more oxygen to help it to function better).
• Diastolic blood pressure decreased
• Increases secretion of hormones that are important in regeneration and repair processes, such as HGH (Human Growth Hormone), IGF-1, and testosterone
• Decreased Cortisol levels (stress hormone)
• Enhanced athletic performance due to improved muscle strength and tone
• Important muscle groups are worked
• Using simple adjustments in posture and body positioning, produces the effects of 80 different exercises
• Decreased recovery time after workouts
• Increased tendon strength
• Increased basal metabolic rate
• Accelerated weight loss
• Increased bone strength, density and fights osteoporosis
• Increased lumbar proprioception
• Reduced back pain and stiffness
• Positive results seen on neurological conditions such as Parkinson's
• Reduced effects of stress and stress incontinence
• Rehabilitates injuries and ailments
• Stimulated lymphatic drainage
• Reduces appearance of cellulite (reduces weight gain and helps to tone the body)
• Tones and tightens skin
• Improved collagen production
Specifications:
MAXIMUM POWER 2HP
INPUT VOLTAGE 110 Volt 60Hz
INPUT POWER 2 Direct Current motors of 500W and 300W
VIBRATION TYPE Oscillating, Orbital, and DualVib
SPEED SETTING Each type of vibration can be set 0 –60 either independently or together
AMPLITUDE Oscillating: 0 to 10mm /
Orbital: 1 to 2mm /
DualVib: 1 to 10mm
FREQUENCY Oscillating: 5 – 30Hz /
Orbital: 15 – 40Hz /
DualVib: 25 – 50Hz
G FORCE 2.8 – 7.35 Gs
PROGRAMS Manual, 3 pre-set
& 6 user definable
(USB Flash Drive)
LENGTH OF PROGRAMS 1-20min
USER WEIGHT CAPABILITY 331 LBS
VIBRATING PLATE SIZE 20" x 27"
ASSEMBLED SIZE 23" x 27" x 53"
NET WEIGHT 126 lbs.
GROSS WEIGHT 146 LBS For shipping – it is packaged in 2 boxes
29.5″ x 26″ x 12″ 106#
57.7″ x 13″ x 12″ 40#
Item #400-02

Shipping Included.
$1990.00