Pure Joint features methylsulfonylmethane (MSM) blended with naturally occurring, clinically researchedglucosamine sulfate and chondroitin sulfate. Combined, these three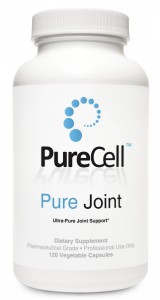 ingredients provide targeted support for healthy joint structure and function.
Healthy joints can help us move freely, exercise comfortably, and recover effectively. Nourishing and maintaining the flexible connective tissue (cartilage) in our joints are essential to maintaining our own flexibility. This formula combines three high-quality ingredients that target joint health and assist with recovery from temporary joint  discomfort due to occasional overexertion or intensive activity.*

Pharmaceutical Grade
*Statements have not been evaluated by the Food and Drug Administration. This product is not intended to diagnose, treat, cure or prevent any disease.
Item #800-15
$50.00