PureDine provides a high-potency dose of iodine in the form of potassium iodide along with supportive doses of molybdenum and selenium. Iodine is required for thyroid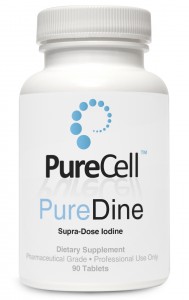 hormone synthesis and is found in virtually every cell in the body. Selenium supports the production of the active thyroid hormone T3 and participates in antioxidant systems. Molybdenum is incorporated into several metabolic enzymes and is instrumental in the breakdown of sulfites, nucleotides, drugs, and toxins. Contains 90 Tablets.
Pharmaceutical Grade

*Statements have not been evaluated by the Food and Drug Administration. This product is not intended to diagnose, treat, cure or prevent any disease.
Item #800-13

$15.00