Vitamin D3 Immunity Formula by PureCell contains vitamin D3 (cholecalciferol) 5,000 iu. Vitamin D3 is the bioidentical form of D3 synthesized in the body from cholesterol,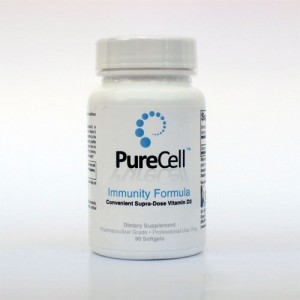 following activation by the UV rays in sunlight. This form is excellent for maintaining healthy levels of vitamin D in the body. Mounting evidence suggests roles for vitamin D not only in bone health, but also in supporting immune, neurological, musculoskeletal, cellular and cardiovascular health. These softgels do not contain wheat, gluten, corn, yeast, soy, dairy products, fish, shellfish, peanuts, tree nuts, egg, artificial colors, sweeteners or preservatives.  Contains 90 Softgels.
*Statements have not been evaluated by the Food and Drug Administration. This product is not intended to diagnose, treat, cure or prevent any disease.
Item #800-05

$20.00