Green Tea Capsules Vitality and Antioxidant Formula by PureCell is an ultra-pure, water-extracted green tea formula that is rich in polyphenols, a class of photochemical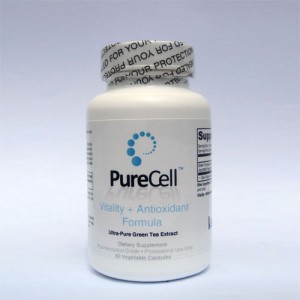 compounds that support antioxidant activity. Research has shown that green tea supports natural detoxifying enzymes, normal gene signaling and the health and function of intestinal flora. These capsules do not contain wheat, gluten, corn, yeast, soy, animal or dairy products, fish, shellfish, peanuts, tree nuts, egg, artificial colors, sweeteners or preservatives. 60 count capsules.
Pharmaceutical Grade


*Statements have not been evaluated by the Food and Drug Administration. This product is not intended to diagnose, treat, cure or prevent any disease.
Item# 800-07

$30.00