This informative step-by-step guide is a must have for the use of hCG and so much more. Losing weight, re-sculpting your body and keeping the weight off
once and for all is possible.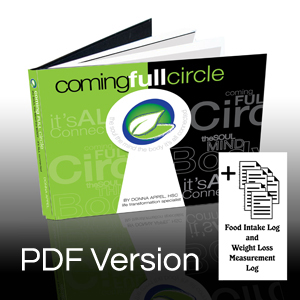 Written by Donna Appel, who's own personal quest to detoxify her body, lose weight and keep it off, resulted in a loss of over 100 pounds. What she discovered over the years however is that there is so much more involved in the process of losing weight and getting healthy. This book addresses issues that go beyond that of hCG with topics including hormone balancing, increasing metabolism, candida albicans yeast, toxic addictive sugar, food allergies, exercise, recipes for the entire program and much much more . This is a complete guide for the use of hCG from A to Z along with sound guidance on how to keep it off for good. Donna dives into the mind and soul issues that can sabotage efforts. She explains how it is all connected and what you can do to turn over a new life and transform a new life.
Donna's program is endorsed by Caroline Sutherland, author of The Body Knows ~ How to Stay Young; "Donna Appel is an excellent and thorough health coach. Weight loss can be a complex, elusive goal for so many people. Combining hCG, sensible eating and a long-term plan that makes practical sense is the cornerstone of what Donna teaches."
Item #300-05
$30.99