By PureCell, Daily DeTox Biotransformation Formula represents an innovative, unparalleled approach to biotransformation for the patient whose health is constantly challenged. This clinically validated, all natural, fructose-free formula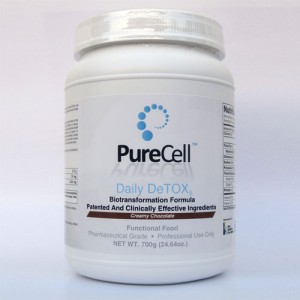 comprises ingredients that promote overall gastrointestinal health and optimize the body's ability to detoxify harmful substances and respond to inflammation. Daily DeTox, which features patented and proprietary ingredients, provides 21 grams of vegan protein blend all natural, vegetable-based protein, along with immune blend and cell support (sulforaphane glucosinolate) in clinically relevant doses. Contains 2.5 grams of Immune Blend, 30 mg of Cell Support and 1,000 mg of Arabinogalactan. Does not contain wheat, gluten, corn protein, yeast or dairy products, artificial colors, sweeteners or preservatives.
Pharmaceutical Grade

*Statements have not been evaluated by the Food and Drug Administration. This product is not intended to diagnose, treat, cure or prevent any disease.
Item #800-03

$70