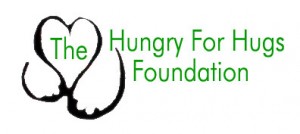 The simple act of a hug is more powerful and healing than anything I could possibly conjure up. The simple act of a hug costs nothing yet gives so much to the person on the receiving end as well as to the person on the giving end. What I realized when I was recently reunited with a child that had been torn away from me 25 years ago (she was 13 years old), was that a hug has lasting effects. A hug is embedded in the cells of our very being.
Knowing what I know about hugs and being frustrated that I couldn't open my door and hug a loved one without first getting on a plane, led me to thinking …
What can I give to the children I love in college that is non-food related that would show them how much I love them and miss them?
What can I give to the children I love that live afar that need a hug?
What can I give to aging parents who live afar that don't really need anything other than a hug?
What can I give to anyone that lives afar that:

isn't filled with preservatives?
doesn't die in a glass jar filled with water?
isn't food related?
symbolizes a hug and my love to the recipient?
is useful to the recipient?
can be passed forward to someone else?
Listen to more on this recorded message (insert video link here)
Join in the hug-o-lution© today.  Discover how a hug:
can be self inflicted
can heal any wound
can ease pain
can give a vote of confidence
says congratulations
says I love you
can fill an empty, longing heart
says I'm proud of you
is the "best medicine"
will last forever
can reunite
brings nourishment to the body and soul
solves a conflict
replaces the desire to eat
The Hungry for Hugs Foundation© was born from my desire to want to help those in pain, to heal. While I don't think it will cure eating disorders or any disorder for that matter, I do think it is the beginning of another revolution. I do believe it is a beginning of a healing process, a healing hug-o-lution©. It is the first step that one can take down a sometimes painful path. If we are going to put an end to anything, it can all begin with a hug.
Remember, Hungry for Hugs Foundation© is in its infancy stage. I urge you to take action. Get involved. Get your mind off of your pain and suffering and reach out. Reach out for a hug. Reach out for a book that can hug you and help you. Reach out to family, community and to our planet. Everyone can always use a hug. Help me, help you, help us as we perpetuate a revolution and put an end to the ravages of obesity and illness.