Books  | Audios  | Videos | AVFC Videos
Detox & Premiere Weight Loss Member Recordings
Free Webinar Recordings
BOOKS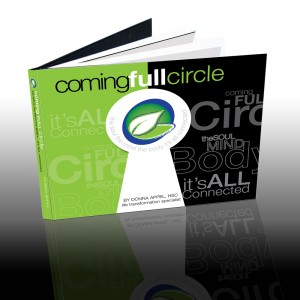 Coming Full Circle is an informative step-by-step guide and a must have for the use of hCG and so much more. Losing weight, re-sculpting your body and keeping the weight off once and for all is possible. Written and published by Donna Appel, who's own personal quest to detoxify her body, lose weight and keep it off, resulted in a loss of over 100 pounds. What she discovered over the years however is that there is so much more involved in the process of losing weight and getting healthy. This book addresses issues that go beyond that of hCG with topics including hormone balancing, increasing metabolism, candida albicans yeast, toxic addictive sugar, food allergies, exercise, body pH, water, plus recipes for the entire hCG program and much much more . This is a complete guide for the use of hCG from A to Z along with sound guidance on how to keep it off for good. Donna dives into the mind and soul issues that can sabotage efforts. She explains how it is all connected and what you can do to make change permanent.
Donna's program is endorsed by Caroline Sutherland, author of The Body Knows ~ How to Stay Young; "Donna Appel is an excellent and thorough health coach. Weight loss can be a complex, elusive goal for so many people. Combining hCG, sensible eating and a long-term plan that makes practical sense is the cornerstone of what Donna teaches."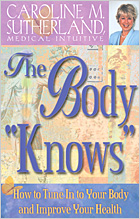 How to Tune In to Your Body and Improve Your Health. This book is dedicated to bringing you the pearls of "physical body wisdom" distilled into an easy-to-follow formula. From cover to cover, Caroline Sutherland takes you on an "edge-of-the-seat" journey into understanding the terrain of the physical, emotional, and spiritual components of vibrant health. Weaving her compelling story as a medical intuitive into fascinating case histories; and topics such as menopause, children, the elderly, and more, Caroline explains how to "hone" your instincts and demystify your physical body processes. If you've ever wondered why you gain weight, retain fluid, feel jittery, get headaches, have joint stiffness, or lack energy—and want to know what to do about it—then this book is the key to finding out the truth of your own health equation.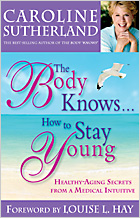 Is it possible to actually slow down the aging process?
Health educator and medical intuitive Caroline Sutherland says yes; and when you look at this vital, energetic woman who's in her mid-60s, you can tell she has a few secrets that are worth sharing.
This is a book that certainly comes along at the right time: With much of the population moving into retirement age, and billions of dollars being spent annually on vitamins and anti-aging therapies, men and women are eagerly seeking healthy approaches during their later years.
Men and women are often wary about what might befall them as the numbers tick away. Fortunately, Caroline has answers for the chronic degenerative breakdown that leads to mobility issues, decrease in hearing and vision, osteoporosis, and arthritis—not to mention memory loss. With her expert wisdom and sparkling sense of humor, Caroline covers the four components of a vibrant-aging program, showing in the process that the body has a phenomenal capacity to repair.
This book is perfect for you if you want to live a long and vivacious life and fulfill your destiny!
Foreword by Louise L. Hay
Order The Body Knows How to Stay Young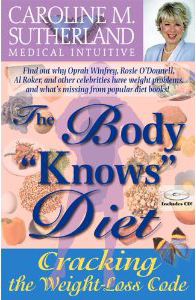 "The Body Knows Diet – Cracking the Weight Loss Code", finally dispels the myths surrounding the American diet industry and imparts the five important components of successful weight loss in an easy-to-follow formula. Readers will find out why celebrities like Oprah Winfrey, Rosie O'Donnell, Wynonna Judd, Al Roker and others gain weight and what is missing from popular diet books. Imagine being able to lose weight without dieting, measuring, calorie counting, starving or excessive exercise. For readers who are frustrated with the weight loss game, this book will teach them the keys to hormone balancing, how to stop cravings, how to prevent fluid retention, how to identify food allergies and much more. Caroline Sutherland shares her years of experience as an allergy testing technician helping thousands of people to lose weight effectively.
Order The Body Knows Diet: Cracking the Weight Loss Code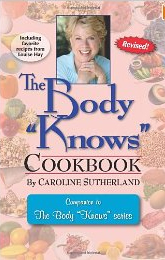 If you have ever wondered why you • gain weight • lack energy • retain fluid • get headaches • lack mental clarity • suffer from digestive problems • have joint stiffness —-and what to do about it—- Then your problems could be food related. This may be the book you need. "I love Caroline Sutherland's easy and delicious recipes. Her information totally inspired me to lose 50 pounds and, thanks to my newfound energy and mental clarity. I am really enjoying live." -Barbara C., Los Angeles, California "I will always be grateful to Caroline Sutherland for her guidance and refinement of food choices. In order to stay very healthy and have lots of energy, I grow my own food and I am very aware of the foods that are right for me." -Louise Hay, author of You Can Heal Your Life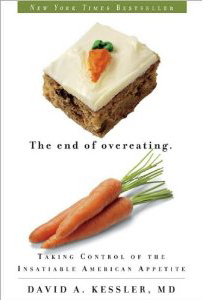 Most of us know what it feels like to fall under the spell of food when one slice of pizza turns into half a pie, or a handful of chips leads to an empty bag. But it s harder to understand why we can't seem to stop eating even when we know better. When we want so badly to say "no," why do we continue to reach for food?  Dr. David Kessler, the dynamic former FDA commissioner who reinvented the food label and tackled the tobacco industry, now reveals how the food industry has hijacked the brains of millions of Americans. The result? America s number-one public health issue. Dr. Kessler cracks the code of overeating by explaining how our bodies and minds are changed when we consume foods that contain sugar, fat, and salt.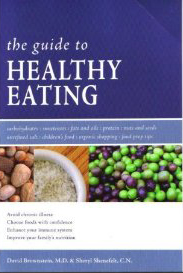 What do I eat? How do I cook healthy food? How do I shop for healthy food? The Guide to Healthy Eating will show you which foods are healthy and which food you should avoid. Furthermore, this book will help you make the best food choices for you and your family. Food is our best medicine. Relying on the media, diet associations, and food corporations will lead you astray when it comes to providing information on how to achieve your optimal health. This book answers your questions about making healthy food choices and shopping for nutritional food. It will serve as a helpful tool to guide you toward wholesome meal ideas for you and your family.
Order The Guide to Healthy Eating by David Brownstein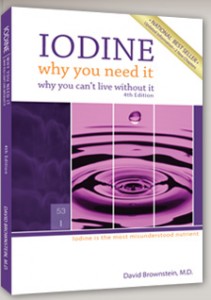 Dr. Brownstein has expanded and updated this book with all the latest information about iodine. The entire book has been updated with new case histories. In addition, there are two NEW chapters which provide information about:
Iodine and Detoxification
Children and Iodine
What iodine does in the body
Why autoimmune thyroid disorders form from a low iodine state
Why it is so important to ensure an adequate selenium intake
Dr. Brownstein feels iodine is the most misunderstood nutrient. He feels it is impossible to achieve your optimal health when there is iodine deficiency present. This book provides information on how iodine therapy can help:
ADHD
Breast Cancer
Detoxification
Fatigue
Fibrocystic Breasts
Graves' Disease
Hashimoto's Disease
Hypothyroidism
Improve the Immune System
This book will show you Dr. Brownstein's latest research about iodine. Each chapter has been updated! Ensuring adequate iodine levels is essential to helping you achieve your optimal health. Dr. Brownstein will provide you with all new information on the importance of iodine.
Order Iodine: Why You Need It Why You Can't Live Without It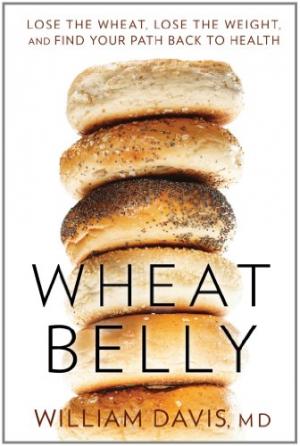 A renowned cardiologist explains how eliminating wheat from our diets can prevent fat storage, shrink unsightly bulges, and reverse myriad health problems. Every day, over 200 million Americans consume food products made of wheat. As a result, over 100 million of them experience some form of adverse health effect, ranging from minor rashes and high blood sugar to the unattractive stomach bulges that preventive cardiologist William Davis calls "wheat bellies." According to Davis, that excess fat has nothing to do with gluttony, sloth, or too much butter: It's due to the whole grain wraps we eat for lunch. After witnessing over 2,000 patients regain their health after giving up wheat, Davis reached the disturbing conclusion that wheat is the single largest contributor to the nationwide obesity epidemic— and its elimination is key to dramatic weight loss and optimal health. In Wheat Belly, Davis exposes the harmful effects of what is actually a product of genetic tinkering and agribusiness being sold to the American public as "wheat"—and provides readers with a user-friendly, step-by-step plan to navigate a new, wheat-free lifestyle. Informed by cutting-edge science and nutrition, along with case studies from men and women who have experienced life-changing transformations in their health after waving goodbye to wheat, Wheat Belly is an illuminating look at what is truly making Americans sick and an action plan to clear our plates of this seemingly benign ingredient.
Order Wheat Belly: Lose the Wheat, Lose the Weight, and Find Your Path Back to Health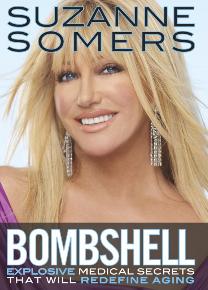 Are you ready to rethink and redefine your approach to aging? This powerhouse book tells you how to go from dreading it to making it the greatest passage of your life!
Dubbed a health pioneer by the Wall Street Journal and called "crazy smart" by Dr. Mehmet Oz, Suzanne Somers has repeatedly opened up new terrain to health seekers worldwide. And now, with Bombshell, she does it again. Acting like your personal medical detective, she has found the most advanced scientists, doctors, and health professionals and gotten them to share jaw-dropping advances that will stop deterioration and set you on the path to restoration and healthy longevity.
By taking advantage of these new bombshell advancements, you can live longer than ever with great quality of life, and experience a different way to age: with great health, strong bones, vitality, a working brain, and sizzling sexuality. All of it is yours for the taking if you are willing to make some simple, effective changes.
In Bombshell you will learn about explosive medical secrets utilizing the groundbreaking technologies of today, or the very near future, that will allow us all to truly maintain the fountain of youth, including:
How nanobots, small "robots" the size of blood cells, will be injected into the human bloodstream to clean the blood supply and literally wipe out today's most feared diseases
How stem cell procedures, using one's own adult stem cells, can be used to prevent disease and even regrow body parts; including how Suzanne's breast was reconstructed after cancer with no implant in the first clinical trial of its kind in the United States
How balancing hormones with bioidentical hormone replacement therapy can improve your internal health, well-being, vitality, looks, and sex drive
How the "cure" to cancer might be just around the corner by preventing it at the source with injections of human, cancer-resistant white blood cells
How a supplement to regrow telomeres at a cellular level will restore the human body to a younger internal age and reverse signs of aging such as disease, baldness, wrinkles, and loss of hearing and eyesight. And it's available now!
One after another, she shares the breakthroughs that you can use today to keep you in top shape so you can embrace the near future and all it will have to offer.
Order Bombshell: Explosive Medical Secrets That Will Redefine Again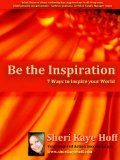 Publication Date: January 29, 2012
Be the Inspiration: 7 Ways to Inspire Your World is a leadership book designed for coaches, consultants, thought leaders, change agents, small biz, org leaders, beginning leaders/managers, plus experienced leaders… It is for anyone who really wants to make a difference no matter where he or she is right now.
This book takes you from getting inspired personally to being the inspiration to everyone around you.
The Be the Inspiration movement is for people who truly want to make a difference. It's time to move people with your message. It is time to mentor, to give back, to love more, to be more…
The Be the Inspiration book explains how to use the acronym INSPIRE and you will learn key components of explosive personal and leadership growth. This ebook includes the key concepts that I have been teaching in my leadership
coaching program.
Testimonial
"What I learned about leadership has supported me in all of my roles, professionally and personally. Sheri helped me to get comfortable with embracing my personal story and the value it brings. Writing my I-story was healing and powerful. Sheri is truly a role model for me, demonstrating that great joy can come through inspiring others." Kathryn Quintana, Certified Family Manager Coach
You will learn and use the acronym INSPIRE
• I- Your compelling "I" story
• N-New Beliefs
• S- Step into Inspired Action
• P- 3 P's- People, Purpose, Prosperity
• I- "I love" (unconditional love)
• R- Reaching Out
• E- Managing Your Energy and Enthusiasm
This book includes:
• Concepts I have been teaching in my leadership group coaching classes.
• Ideas that have propelled my coaching practice to a global level.
• Exercises in each chapter to give you a practical application of each concept.
• Stories from people just like you- who have transformed their lives.
Order Be the Inspiration: 7 Ways to Inspire Your World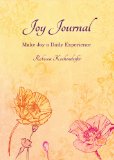 Publication Date: November 9, 2012
Joy Journal: Make Joy a Daily Experience
Maybe your life is already pretty wonderful. Or perhaps you are facing some challenges. Wherever you are in your life, Joy Journal can help you take your next step.
Sometimes we get busy and forget many of the things for which we are grateful. Joy Journal helps you remember the experiences and events in your life, large and small, that are filled with joy. It guides you to envision the wonderful day that lies ahead of you. It gently introduces you to new habits and new ways of thinking, allowing you to appreciate your life more, and make it even better!
Joy Journal leads you on your own unique journey of self-discovery. This is your chance to rediscover the joy in your life, and make it a daily experience.
Order Joy Journal: Make Joy a Daily Experience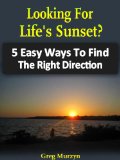 Publication Date: May 7, 2012
Looking for Life's Sunset?
Is today another day of drifting in life without achieving what you desire? Do you really know, with certainty, what you want? Are you making progress and getting positive results? If not, you're not going in the right direction. YOU CANNOT HEAD EAST IF YOU'RE LOOKING FOR A SUNSET. It won't be there.
This little book will give you 5 simple, yet powerful, ways to help point you in the right direction and start making progress towards that which you desire. Ponder these steps. Take action. See results.
Order Looking for Life's Sunset?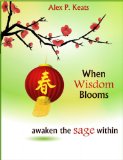 Publication Date: July 29, 2012
When Wisdom Blooms: Awaken the Sage Within
Wisdom is the power to see what is always and already right and true. It's that aspect of ourselves that innately possesses the ability to discern truth from falsehood. Nevertheless, when we're born, we didn't come with an operating manual showing us how to live from our natural state of wisdom. All the parts were in the box, but the directions were left out. And since most around us haven't awakened their inner sage, it's no wonder we experience so many challenges in life. And yet if wisdom really is fully present and available within each one of us, why does it seem so difficult to access and live from? If wisdom is a flower that only blossoms under the proper conditions, we are wise to know what those conditions are. Conversely, we are wise to notice what suppresses our innate wisdom so that it's opposite quality, ignorance, doesn't blossom.
After all, wouldn't the quality of our lives then, ultimately be dependent upon which half blooms? What might happen if we put aside everything we've accumulated up to this point, and suspend all that we think we know for a time, for the very real possibility of experiencing a different reality, right now? What might happen if we approach concepts we may have been exposed to before in a very different manner – a manner without expectations, conclusions, agreements or disagreements – and without any reference to the mind to tell us what's real and true? When Wisdom Blooms – Awaken the Sage Within explores these questions and more in depth, with the intent of discovering what awakens our inner sage who patiently waits to be discovered.
Order When Wisdom Blooms: Awaken the Sage Within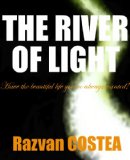 Publication Date: February 14, 2012
The River of Light – Have the Beautiful Life You've Always Wanted
For the first 30 years of my life I believed that bad luck was following me everywhere, and that I was cursed, because I saw my life as a pile of junk. After I turned 31 I understood what life was all about. That it was not a struggle, but a beautiful experience, and, instead of swimming against the current I have decided to let go and be carried effortlessly. From that moment on, my life has transformed in front of my very eyes, from hell to paradise. I want to share that experience and the lessons I have learned with you, and help you take the journey to happiness.
You deserve to be happy!
Order The River of Light – Have the Beautiful Life You've Always Wanted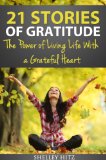 Publication Date: October 29, 2012
Stories of Gratitude: Living Each Day With a Grateful Heart
Are you living life to the fullest? Or are you merely surviving from day to day?
One way to live life to the fullest is to live each day with a grateful heart. In this book, we share 21 stories of gratitude to give you encouragement and hope in your own journey. Gratitude is possible! Even though many times we cannot change our circumstances, we can change the way we see them. We can ask God to empower us to change our thoughts.
Our prayer for you is that you find encouragement within these pages. And we pray that you will ask God for His strength to renew your mind with His truth and the hope He offers each one of us every day. It is only through Christ renewing our minds that we can truly live each day with a grateful heart.
"And do not be conformed to this world, but be transformed by the renewing of your mind, that you may prove what is that good and acceptable and perfect will of God." Romans 12:2 (NKJV)
Order Stories of Gratitude: Living Each Day With a Grateful Heart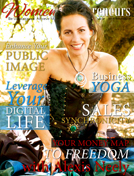 Women Entrepreneurs Magazine

We Are the ONLY Digital Business & Lifestyle Magazine for WomenThat…
Empowers you with powerful business tools & strategies broken down into simple action steps by renowned experts.
Connects you to real multi-millionaire women entrepreneurswho pull back the curtain and reveal the secrets to their success.
Serves you in each aspect of your life with articles on health, beauty, inspirational books, relationships, fashion, and stunning travel destinations.
Resonates with you as a super special woman in business so that you feel supported, motivated, relaxed, and enthusiastic on your entrepreneurial journey.
Supports you with a community of unstoppable women who share the same entrepreneurial spirit and are on the same journey as you!
Are You Ready to Be Educated, Pampered, and Supported?
Indulge in the Luxury of Our Current Issue for FREE!
AUDIO
HayHouseRadio.com offers over 30 inspiring online radio shows! Tune in to listen to new shows from your favorite authors daily. www.HayHouseRadio.com features Podcasting, downloads, radio show archives, Live Online Seminars, and On Demand Online Events. Many live shows also offer the opportunity to call in and ask questions live on the air.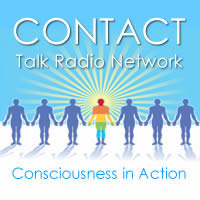 CONTACT Talk Radio is an Internet Talk Radio station that presents cutting edge information geared toward overall mind, body and spirit — connecting listeners with tools that will assist them in making educated and empowered decisions for their lives and our world.

MOVIE/VIDEO
Hay House is proud to offer the first-ever film on the life and work of our much-loved founder, Louise L. Hay in You Can Heal Your Life: The Movie. This DVD is the inspirational story of Louise Hay who changed the world and its way of thinking with her simple message: "Every thought you think is creating your future."
What is The Shift*? It's the story of the most important moment of your life—when you stop striving and start arriving! It's the choice you make to move toward a life that gathers up the pieces of your best, most fulfilled, most loving self. It's the moment when you start living a life rich with meaning and begin playing the music you came here to play.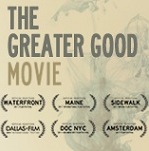 THE GREATER GOOD is an award winning character-driven documentary that explores the cultural intersections where parenting meets modern medicine and individual rights collide with politics. The film offers parents, doctors and policy makers a safe space to speak openly, actively listen and learn from one another. Mixing verité footage, intimate interviews, 1950s-era government-produced movies and up-to-date TV news reporting, THE GREATER GOOD weaves together the stories of families whose lives have been forever changed by vaccination.