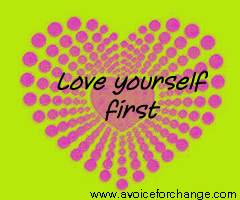 As a health coach and leader in the field of using hCG for detoxification, I thought I would write a bit about our beliefs. What I have realized is that so much of the detoxification process involves the brain and how we look at ourselves from our conscious and subconscious mind. The bottom line is that we all must must must love ourselves to the core of our very being. If we are ever going to be successful in the "get healthy and/or lose weight" reality of our lives, or in any reality of our life for that matter, then we must must must be sure to love ourselves first and foremost. When we don't, we withdraw into the abyss of ourselves to avoid the hurt and pain we are feeling. We close the door to the opportunity to really love because we can't love others as they are if we don't love ourselves unconditionally for who we are first. We must face our shadow selves and dig into the abyss of what we may not like about ourselves. We need to accept the good with the not so good and learn to laugh at the lesser of who we currently are. We can't change what we don't like about ourselves if we are in denial of who we are at our unfavorable moments. We must become aware and awaken to the possibility of who we can become.
These are the lessons of life that we are here to learn and until we learn them, the joy and love that we could be experiencing while on this journey will be things that we can only dream of and hope for. Never stop dreaming but please start to make your dreams your reality by accepting your current status. Whatever you have to do to begin the journey toward self love, begin it today. Some great places to turn to for assistance are:
Want to know more, email me at support@avoiceforchange.com and ask me to give you a few more referrals. Changing belief codes doesn't have to be a daunting experience or major life challenge but it does need to happen if you are ever going to break away from patterns that are sabotaging our efforts for great health, wellness, happiness, joy and love. Get a copy of my book too. I talk about the body, spirit and mind connection in my latest book entitled "Coming Full Circle". It isn't just a manual for using hCG, it is a whole lot more and brings everything to the forefront so permanent change can begin.
That's my message for the day.
Enjoy life, love and happiness always,
Coach D, Donna Appel, A Voice For Change …. www.avoiceforchange.com