The Monsanto Protection Act
Signed by Obama? Really? Why?
IDKT (I Didn't Know That)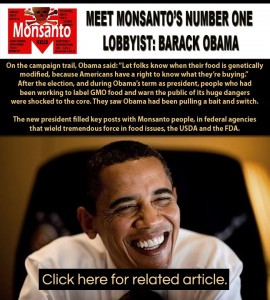 …Liberals and Tea Party members alike are up in arms over the so-called "Monsanto Protection Act," a provision snuck into the emergency budget bill that essentially exempts biotech firms like Monsanto Company from judicial review. Yes, you read this correctly and I had no idea either. According to "Think Progress" which is a project of the Center for American Progress Action Fund, a nonpartisan organization, "now that President Obama has signed the law, Monsanto may plant genetically modified seeds even if a court of law orders them to stop.  While this is blatantly unethical, and possibly unenforceable, the newfound public outrage over the Monsanto Protection Act ignores the fact that Monsanto has already been above the law for decades."
Further stated by Think Progress, "The Monsanto Protection Act is merely a drop in the bucket of government-embedded protections the agricultural giant already enjoys. The company has spent decades packing the US Department of Agriculture, Food and Drug Administration, and the Environmental Protection Agency with its own members. A new Food and Water Watch report maps out the many ways the company stacks the regulatory deck in their favor:
Monsanto's board members have worked for the EPA, advised the U.S. Department of Agriculture (USDA) and served on President Obama's Advisory Committee for Trade Policy and Negotiations. They presided over multiple universities in various senior positions, including South Dakota State University (with whom Monsanto has a significant research agreement), Arizona State's Biodesign Institute and Washington University in St. Louis […] The prevalence of Monsanto's directors in these highly influential positions begs a closer look at how they're able to push the pro-GE agenda within the government and influence public opinion."
NYK (Now You Know) …
…that when it comes to the truth about GMO foods, we haven't even begun to see the plight of this dishonest devastation even within the United State Government. Stay tuned for more information to come. Through education and unity toward the common good for all and not just corporate giants and government agencies, we can take back our right to good, unadulterated, whole, nutritious food and getting back to letting thy food be thy medicine. Together we can all be A Voice For Change, Coach D, Donna Appel, Life Transformation Specialist.
Visit http://www.avoiceforchange.com/education to learn more about Monsanto, GMO's, Corrupt Government, as well as alternative ways to live healthy.