Diabetes on the Rise – Dah!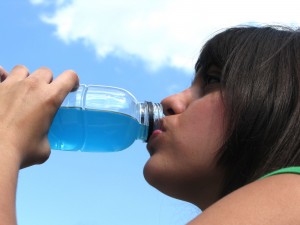 So you think you are drinking healthier beverages these days. Think again. Thought Vitamin Water was packed full of healthy ingredients. Think again. Same holds true for SoBe tea. Not all are created equal. Take a look at the numbers below. They are staggering.
Vitamin Water, XXX Acai Blueberry Pomegranate, 20 oz contains 32 grams or 7.5 teaspoons of sugar.
SoBe Energize Green Tea, 20 oz contains 51 grams or 12 teaspoons of sugar!
Starbucks White Hot Chocolate w Whipped Cream, 20 oz contains 76 grams of sugar! That equates to 18 teaspoons.
McDonald's Triple Thick Chocolate Shake, 32 oz contains 168 grams of sugar or 40 teaspoons of sugar!
Mountain Dew, 20 oz contains 77 grams or 18 teaspoons of sugar.
Rockstar Energy Drink, 16 oz contains 62 grams 14.5 teaspoons of sugar.
Starbucks Peppermint White Chocolate Mocha w Whipped Cream, 20 oz contains 94 grams or 22 teaspoons of sugar.
Minute Maid Lemonade, 20 oz contains 67.5 grams or 16 teaspoons of sugar.
Cold Stone Peanut Butter & Chocolate Shake, 24 oz contains 140 grams or 33 teaspoons of sugar. This one drink boasts 1,750!
NYK (Now You Know) …
Stop buying this crap. Help me help you by becoming A Voice For Change today.